NJ Flooring Futurist Launches the First Full-Service, Online Showroom
If you ever get a chance to spend time around Erik Luthy, founder and CEO of Exceptional Flooring Concepts, you'll notice he has a radiant and infectious "nothing is impossible" energy.
Erik Luthy, CEO of Exceptional Flooring Concepts, believes exceptional means innovation, persistence, integrity, and service. He believes in better. Erik applied his knowledge from 25 years of owning a successful "trade only" showroom and built the first full-service, online showroom. He believes it will revolutionize the industry, help designers make more money and streamline workflow.
A "Better Way" Mindset
If you ever get a chance to spend time around Erik Luthy, founder and CEO of Exceptional Flooring Concepts, you'll notice he has a radiant and infectious "nothing is impossible" energy.  
When you hear his story, you'll understand why he's exuberant about life, his family, and helping the design industry thrive.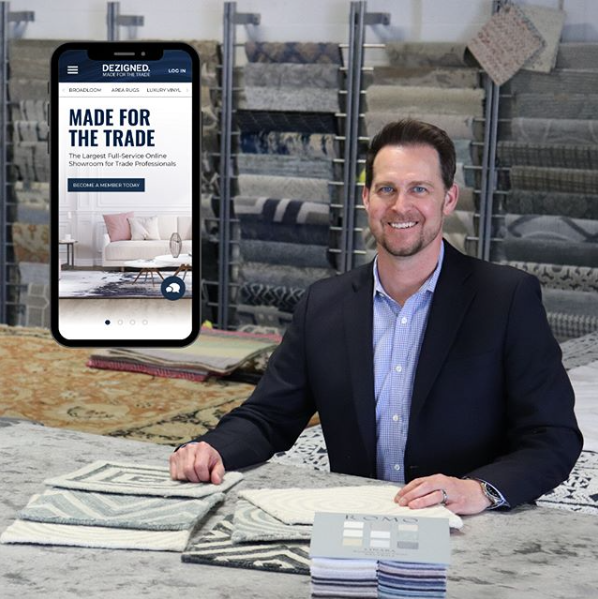 At 17 years old, Erik started in the business on his knees. He worked as an installer and a salesman of floors early in his career. Those early years showed him the unscrupulous, tedious, and sour part of the business and ignited his entrepreneurial spirit. He knew he could do better for employees and better for clients.
He did just that. He built Exceptional Flooring Concepts (EFC). 25 years later, EFC is New Jersey's premiere "trade only" flooring showroom. The showroom is located in North Jersey and services the entire region, including South Jersey, New York, Connecticut, and Pennsylvania.
His journey hasn't been easy. Luthy, like all small business owners, faced ups and downs.
The biggest unexpected hit was facing a diagnosis of late-stage cancer when he was 27.  Intense chemo and massive surgery didn't stop Erik from focusing on living. He wouldn't let circumstances dictate his future. Erik beat cancer and built a premium business that put people first.
To the core, he's the kind of person who's committed to becoming better and helping others evolve. When asked about the one thing that keeps him up at night, he'll say, "Settling for the status quo."
In his EFC showroom, Erik smiles and says, "The one industry that hasn't changed in hundreds of years is the flooring industry. We're still doing the same thing we did when the first loom was built. It drives me crazy. There's got to be a better way in the 21st century. In fact, I know there's a better way. I'm building it."
Luthy is a listener. He pays attention to his clients.
There are five common challenges Erik is determined to help interior designers hurdle:
1) Getting it all done
2) Selling the vision
3) Managing paperwork and invoices
4) Putting profit first
5) Working on the go
While the challenges are real, now is the best time to work in the trades, because technology is changing how the trades work.
The Home Furnishing Institute's 2019 Interior Design Survey revealed that designers are embracing technology. Almost all interior designers would shop an online showroom if offered.
Exceptional Flooring Concepts Presents DEZIGNED.  
DEZIGNED. is the first and largest full-service online luxury showroom on earth. It is Trade-Only. DEZIGNED. does not sell to the public.
Erik took the entire brick-and-mortar process and broke it down into four steps: sourcing, measuring, ordering, and installing. He automated that process and integrated intuitive productivity tools to help designers discover, sell, communicate, and schedule from any device, anywhere.
Exceptional Customer Service
The one thing all of Luthy's businesses have in common is putting people first.
"I wanted my clients to have more control, visibility, and price transparency on every project," says Luthy.
His team of flooring experts are constantly available to answer questions on sourcing and pricing, questions on installation and more. Designers and Luthy's team of flooring specialists have one common goal: successful projects.
Sourcing, ordering, and installing beautiful floors, has never been easier, while giving clients a great price and getting a healthy commission.
What's Different About DEZIGNED.
DEZIGNED. takes the best from traditional showrooms, workflow sites, and online catalogs and delivers it all in one platform.
Once a designer registers, they'll have a business profile and dashboard where they can create a project for every client. Each project will follow a four-step workflow: 1) source, 2) measure, 3) order, and 4) install.  
Step One: Source
30 Luxury Flooring Brands in One Place
DEZIGNED. lets designers source over 50 luxury brands, a variety of flooring -- from Antrim and Stark to Harcourt and Stanton, from pet-friendly to eco-friendly, all these collections in one place.
They sell and service any type of flooring, including area rugs, carpet luxury vinyl flooring, hardwood flooring, and tile flooring. They are Bona certified for sand and refinishing. Through EFC, they also provide window treatments, fabric and wallpaper.
DEZIGNED.'s selection of flooring types and brands is incredible. With a 15,000 sq foot showroom and their own workroom for custom rug fabrication, they literally provide one-stop-shop flooring solutions.
For designers who like ease and simplicity, DEZIGNED. is the only place to source the perfect flooring.
The platform's advanced filters and AI technology help narrow discovery time to seconds instead of hours. Source from home, from the office, the beach, the bleachers, anywhere.
Save and Share Ideas
Once a product is selected, members save and share products in IDEA-VUE. An online "staging area" is created for each project. Design members can grant customers access to the site in Presentation Mode. Presentation Mode lets them control what clients see and how much of the site they can access. Members can choose to hide prices and product names. They can also white label the website, so when they log in, the firm's logo appears on the site.
Increase Sales with an Advanced Room Visualizer
DEZIGN-VUE is a powerful tool that allows members to superimpose flooring choices into a photo of their client's space. Unprecedented realism gives clients confidence to say "yes," knowing everything will look good in their space.
Order Samples Online
When ready, ordering samples is as easy as a click. Designers can order up to 10 free samples per day. Samples are shipped from the manufacturer to the location of the designer's choice.
Step Two: Measure
At Your Fingertips Scheduling on Any Device
DEZIGNED. uses in-house installers for maximum control and transparency. An installer is assigned to the project based on proximity to the job site.
Dynamic Scheduling eliminates calling back and forth. The calendar feature allows designers to schedule appointments instantly online. When an appointment is requested, the system automatically updates the installer's calendar and sends a notification to both the designer and installer.
No Missed Appointments. Accurate Measurements
DEZIGNED. sends reminders by text, email, or both to help keep track of appointments. On the day of the appointment, members receive a notification when the installer arrives on site. Their location will be GPS-tracked in the system. Together the designer and installer will walk the site and complete a checklist confirming project and product information. This information is stored online for maximum transparency and accountability.
2D and 3D Renderings with Instant Invoicing
Transparent pricing takes the guesswork out of creating an estimate.
An advanced measurement tool called Plan-Vue automatically calculates the cost of products and services. Plan-Vue generates 2D and 3D renderings of the space. For wall-to-wall carpeting, this includes seam placements, which the designer can edit. The system instantly generates an invoice for the full service of the job.
Clients never see the invoice. The platform displays both retail and wholesale pricing, so designers can confidently set their markup and provide pricing to the client.
Step Three: Order
Instant Order Process and Payment
Once the client gives the go ahead, the designer can place the order from any device. The site will instantly process the order and payment. The order is then sent to the manufacturer and a local installer is notified.
Order Tracking
Designers receive a confirmation email with shipping information. They'll also receive text and email updates, so it is easy to keep clients informed on delivery times.
Members can track orders and see when the product arrives at the warehouse. Once the installer confirms the delivery matches the order, the installer clicks "Accept" and DEZIGNED. members will then be able to schedule the installation.
Step Four: Install
Seamless Installation Process
At members' convenience, they can log back into DEZIGNED. and schedule the installation.
Installation uses the same dynamic scheduling capabilities as measurement. Members book through the calendar feature, and reminders and notifications are sent out according to designers' preferences, leading up to the appointment. The system also generates a notification when the installer is on site.
The installer presents the service details, and the designer confirms the product, the size, the color, and all the details. The installer returns to the website and clicks "Accept." Then they perform the installation.
Designed for Productivity and Error-Free Results
The designer must be present at the commencement and completion of a job. As a courtesy, the system provides a time estimate of how long the installation will take. This way if it's an eight-hour job, designers don't have be present for the entire process.
Happy Client Checklist
Eliminating communication errors and disputes is the first step to happy clients. That's why DEZIGNED. has certified installers who follow strict guidelines.
Upon completion, the designer and the installer each fill out a post-job checklist to verify that they have completed all the proper steps. Both professionals click "Accept" and the job is marked as completed.
Revolutionize the Way You Do Business
Luthy wants NJ design professionals to lead the revolution and try it for free. Those who join during the beta phase will be able to join for free and get profit margins of up to 30% off retail. (Most brick-and-mortar showrooms only offer 20% off retail.)
DEZIGNED. is a membership site with three tiers: Gold, Platinum, and Family. Each plan offers designers different levels of guaranteed discounts, community access, CEUs, and additional perks for using the platform.
Beating the Odds and Building a Family
Building DEZIGNED. for Erik Luthy is more than building a business. It's about creating a family of trade professionals and advancing the industry in the age of remote work and artificial intelligence.
It's about overcoming obstacles. When Erik was diagnosed with cancer in his late twenties, he was also told he might not be able to have children. Today, he's married with three beautiful children. DEZIGNED. is his fourth.
He believes nothing is impossible and if you're going to design something, break the status quo — do something people didn't think could be done, and revolutionize an industry.