Designers Guide: Fitting an Area Rug to Any Space
With an unlimited selection of rugs, sizes and materials designers' options are limitless. Designers can browse DEZIGNED exhaustive selection by size, variety of styles and patterns all online.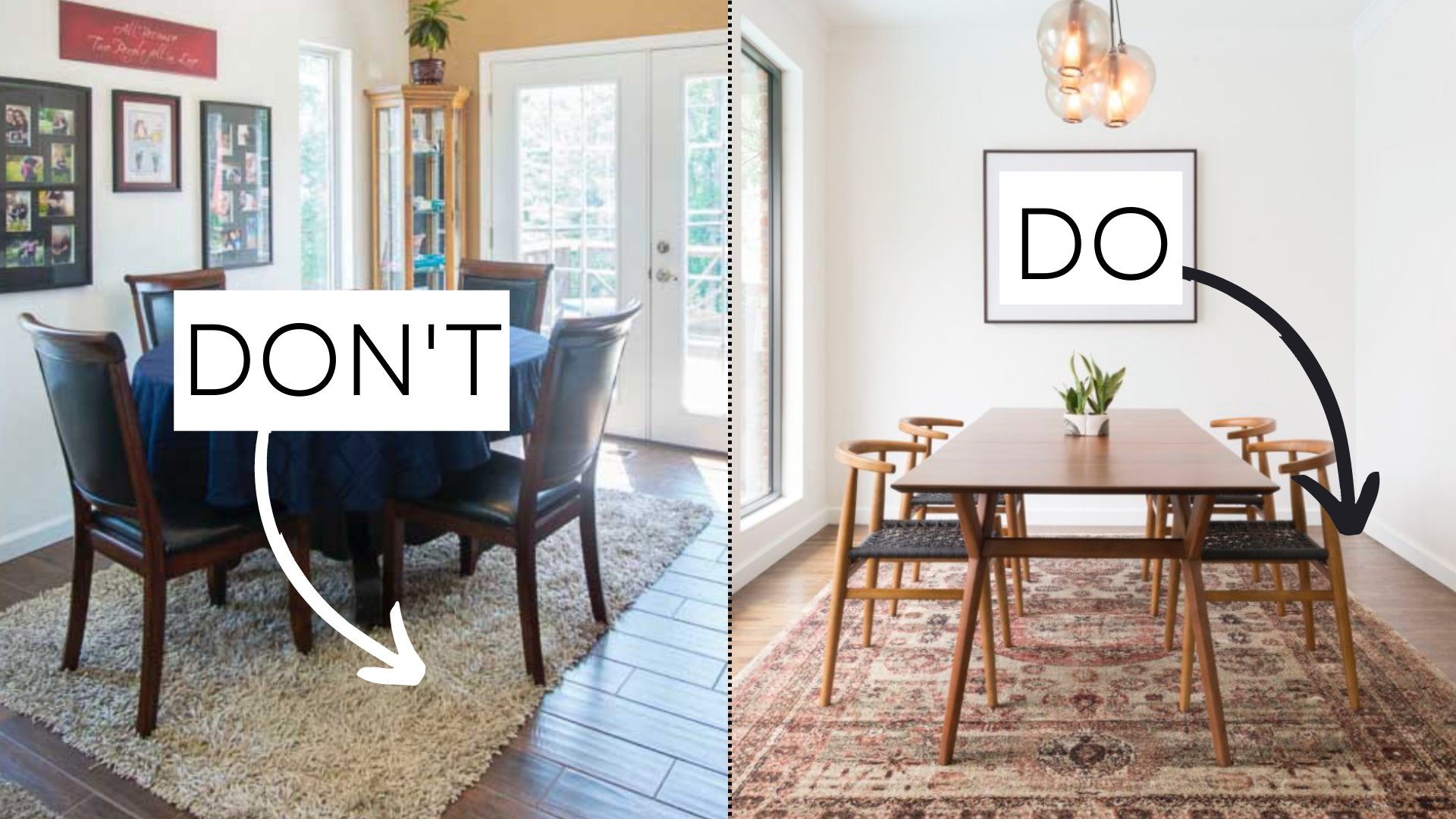 Always make sure pieces of furniture have enough space, no one wants their seats getting caught in the carpet every time they get up from the dining room table.
Area rugs add a unique touch of style to any room. They can be used in any type of room - whether it's a bedroom, kitchen, living room or even a dining room. When fitting an area rug to your room, think of it like having a dress or suit tailored for you. If it is fitted to your body perfectly, it is flattering. Think of area rugs in the same way, placement is everything.
Let's start with the room. Start by asking yourself 3 questions..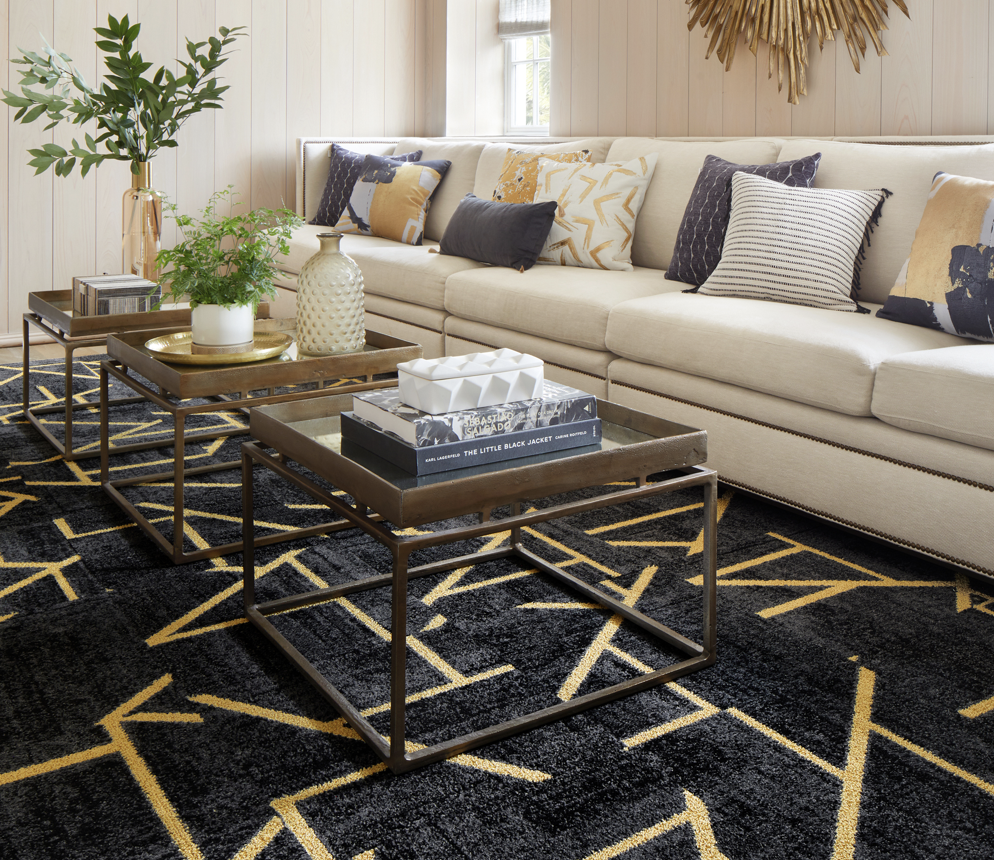 1.What color scheme or pattern will compliment my room?
Choose wisely, a quality area rug will be with you for years. The trendiest styles and vibrant colors you loved yesterday can get old quick. Bolder styles like animal print are time sensitive, it might be in today and out tomorrow.
2. What material do I need?
There are many different materials carpet is made from. If you are on a budget, looking for a soft underfoot or want kid and pet friendly material, there are a range of options. Wool rugs are a higher quality option, wool compositions are soft to the touch and naturally stain resistant. Area rug pads will also help extend the life of your carpet.
3. What size will fit?
Take into account how large the room is and what furniture pieces you want to incorporate. There are a wide range of standard sized carpets and custom sizes are available too.
An area rug should complement your space and become the foundation for your furnishings. You can accomplish this by choosing a rug large enough to fit your space with at least 1 foot between the surrounding walls. Mapping out a guideline with painters' tape can also give you a great visual on how large it will be in your room.
Now let's go through the room standards before purchasing an area rug for your space.
In The Dining Room
When adding an area rug to this space, don't forget to take the dining room furniture into account. Dining chairs should not get stuck on the carpet when you go to pull your seat out each time. Make sure the area rug for this space extends at least 24-30 inches out from the dining room table. The same rules apply for round dining tables, the area rug should be at least 24 inches out from the table. Before purchasing a rug, you should always account for each piece of furniture and what size is most practical for the space.
The best area rugs for a dining room are low-pile area rugs or natural fiber options. The shorter, tighter loops in a low-pile rug make it easier to slide chairs away from the table. Natural fiber rugs are made from natural material such as jute, sisal and seagrass. These natural fiber pieces are sustainable and easy to clean, making it a low-maintenance cleanup after a large family gathering. You can even layer a natural fiber rug to give the room a bit of texture.
In The Bedroom
Photo above is an example using a standard sized queen bed
Standard sized carpets for a bedroom with a king-sized bed are typically 8-by-10-foot size. Queen beds are a bit smaller, typically requiring an area rug 5-by-8 or larger. Placing the area rug underneath the bed toward the footboard typically looks and works the best. If you want the area rug to surround the bed, make sure to keep furniture legs and bedside tables in mind.
Since bedrooms are less prone to the wear and tear of high-traffic areas, you can splurge a bit and purchase a more luxurious material such as a silk area rug. Simple textures, exotic materials and delicate rug materials work best in bedrooms since it is a place of rest and comfort. The bedroom is also a place where you can let your personal style shine through.
In The Living Room
The living room on the other hand, is a high-traffic area of the home. Make sure to keep in mind what material your area rug is made from. Stain-resistant rugs are practical for these spaces and there are no compromises on style. Living room area rugs can range in size depending on how large the room is, larger pieces of furniture can also be an obstacle. Don't forget, the area rug should be at least 1 foot from the surrounding walls. It is also always better to go bigger on the size, you don't want a carpet under the coffee table looking like a doormat.
For a young or active family, budget area rugs can be a great option. Materials such as nylon and polypropylene are easy to maintain and clean. Busy patterns can also act as a camouflage with dirt. For a not-so-active family or couple, a white pattern area rug can give a earthy and natural feel to the space. There are many versatile options to stay within budget and to match your personal style.
Standard Sizes, Limited Options
Typical standard sizes include:
- 5' x 8'
- 7' x 9'
- 8' x 10'
- 9' x 12'
- 10' x 14'
- 12' x 15'
With these tips and tricks, it still might be hard to find a perfect fitting area rug for your space. Once you fall in love with a style or pattern, the size you want might be limited and it might not flatter the space. That's where an interior designer can create a custom sized area rug designed for any sized space.
With an unlimited selection of rugs, sizes and materials designers' options are limitless. Designers can browse DEZIGNED exhaustive selection by size, variety of styles and patterns all online.