Carpeting Basics
Homeowners have always loved the cozy-chic feel of plush, clean carpet underfoot. By treating the floor as a 5th wall, designers use carpeting to introduce color and creativity into a home. Rooms can literally be designed from the ground up.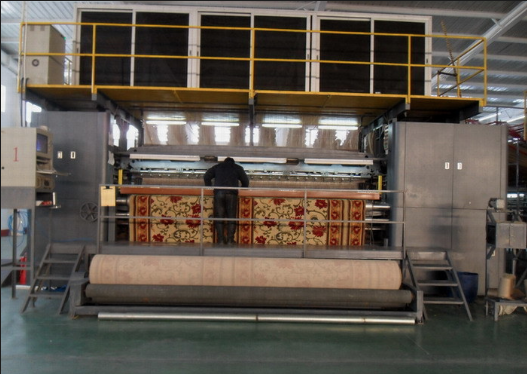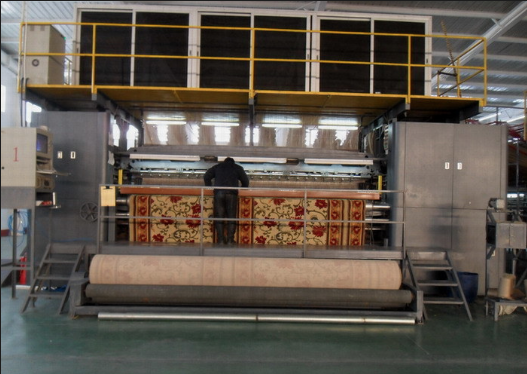 Homeowners have always loved the cozy-chic feel of plush, clean carpet underfoot. By treating the floor as a 5th wall, designers use carpeting to introduce color and creativity into a home. Rooms can literally be designed from the ground up.
In addition to its many obvious functions insulation from the cold, making a comfortable place to sit on the floor, reducing sound and adding style to a room carpet has been an important feature of human evolution and even a form of cultural expression. Its various textures, patterns, colors, and fibers reflect our ecology, economy, and values.
The oldest carpet in existence, the Pazyryk Carpet, was discovered by archaeologists in Siberia, preserved in the ice since the 5th century BCE. It is a pile carpet decorated with lotus buds, griffins, and deer, bordered by horsemen all symbolic of the culture at that time. Persian carpets were a sign of royalty, of power and wealth. Now accessible to all, but not equally.
Any designer worth her salt needs at least a basic understanding of the different design elements and design options offered by today's modern carpet industry. A basic knowledge of the weaving process, for example, empowers designers to select and sell the perfect product for any project effortlessly.
In the US, design trends have waxed and waned from the psychedelic shag of the 1970s, to the practical berber of the 80s and 90s, to the rise of synthetic fibers in the early 2000's, and the eclectic yet functional styles of today.
In accordance with contemporary values of self-realization and empowerment, carpeting in the 2020's is all about expressing yourself and not being afraid to show off your personality.
From mixing bright and bold contrasting colours to rich jewel tones, to geometrics and intricate patterns, self-expression is key. On the other end of the spectrum, the earthy, organic, natural trend brings a calming tableau into our homes. It reflects our desire to live mindfully, to be grounded, and to cultivate more harmony with our surroundings.
From Eco-chic, to pattern play, to styles that juxtapose maximalism and minimalism, carpeting is challenging conventional design and elevating decor to new heights. Carpet manufacturers are even using technology to create never-before-seen patterns and features like 100% waterproof carpet at every price point.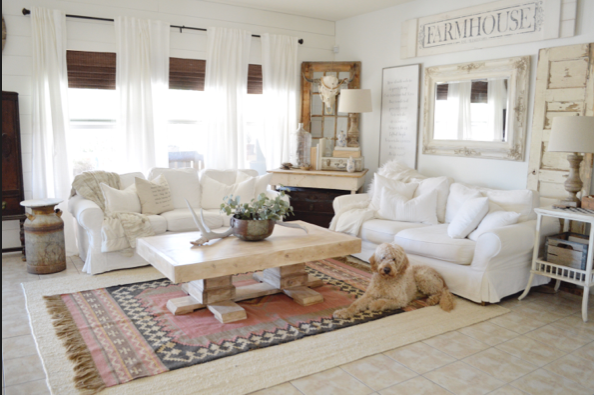 The Loom
A loom is, in essence, a frame. The warp, a set of yarns or fibers, is stretched into place longitudinally and secured to the frame. The weft, or the fill, is then threaded through the warp.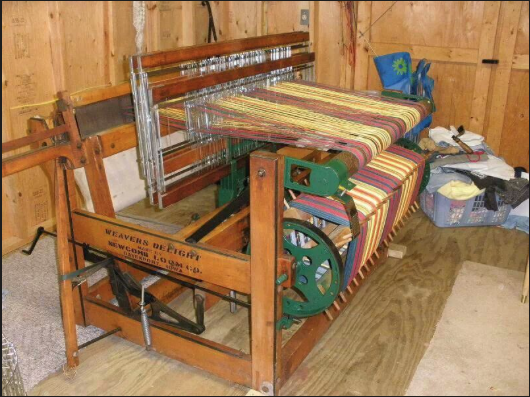 Looms, in their simplest form, were made of two wooden ribs secured to the ground. These horizontal looms were invented by nomadic peoples; they folded and could be moved easily to the next settlement. The loom gradually transformed into the sophisticated electronic weaving machine it is today.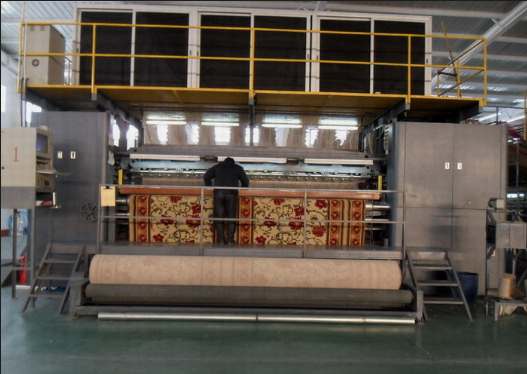 Carpet Construction
Carpet consists of an upper layer of pile attached to a backing. Pile was traditionally made from wool yarn, but now synthetic fibers are also used. Pile usually consists of twisted tufts that may be heat-treated to maintain their structure.
Tufting is when pile is injected into a backing material, which is then bonded to a secondary backing to provide stability. Tufted is the most common type of weaving in the modern manufacturing process.
Dimensional stability is the ability of carpet to retain tis size and shape once installed. In woven carpet, dimensional stability is achieved by using stable backing yarns, as well as by application of latex to the completed carpet. Backing material for fusion-bonded carpet, for example is comprised of layered vinyl or plastic and fiberglass scrim. Your dealer will know the details, and most domestically manufactured carpets, or carpets sold by a trustworthy trade-only, full service showroom will stand up well over time, but to be sure, remember to ask about dimensional stability.
In the US, carpet is commonly made in widths of 12 feet and 15 feet. For wall-to-wall installations, different widths of carpet can be seamed together with a seaming iron and seam tape. They are then fixed to the floor over a cushioned underlay (pad) using nails, tack strips, or adhesives.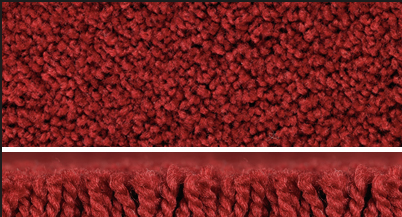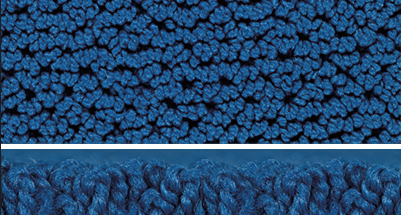 Cut versus Loop Pile Carpeting
Whether using natural fibers, like wool carpet or jute, or synthetic material, like nylon carpet or polypro, every professional designers needs at least a basic understanding of the wide variety of pile types.
The carpet fiber can be sewn in a various styles, each with their own advantages. The style in which the fiber is sewn is called the carpet pile.
Carpet pile can be cut pile and or loop pile. The style called Cut and Loop combines the cut pile and loop pile construction.
Loop pile carpets are known for resisting crushing and matting and not showing traffic patterns or vacuum cleaner marks.
For cut pile carpet, plied yarn must be heat-set to prevent untwisting under traffic.
Types of Carpet Pile
Berber is a wide loop carpet pile, known for thick, heavy yarn. Most of today's popular Berber styles are level loops with flecks of color against a darker or lighter background.
Saxony is a cut pile. Saxony carpets feature tightly-twisted tufts that stand up to heavy foot traffic. Saxony creates a refined surface, great for living rooms and dining rooms.
Frieze offers a curly appearance to the textured surface and is great in heavy traffic areas due to its extreme twist.
Plush or shag carpet has the most luxurious feel, but may show footprints and vacuum marks. Plush performs best in low-traffic areas. Plush carpet is a cut pile with a high fiber height.
Pile Heights
Pile height is the height of the fibers, not including the back.
High pile heights add a touch of warmth and luxury to a room. They also help to dampen noise, giving the space an intimate, relaxing vibe.
Low pile is best for high traffic areas and rooms where dirt, pet hair or other messes are a concern. Regardless of the fiber, low pile carpet will resist wear and tear better than high pile. High pile carpets are more prone to crushing and holding impressions from furniture, vacuum cleaner use and foot traffic.
Level loop pile is exactly how it sounds. All the fiber loops are the the same length. Berber is a cost-effective option if looking for durability and a touch of luxury.
Patterned loop-style carpets, or multi-level loops, usually have two to three different loop heights, for patterning and surface texture.